WHAT CREATIVE IT USA DOES.
These are some of the many problems creative

it

deals with:
Toshiba Laptop Screen Repair
Creative IT USA is a nationwide Toshiba laptop repair service store, offering specialized Toshiba laptop screen repair services. Our experienced technicians perform prompt laptop screen repair services on all models of Toshiba laptop and notebook computers including Qosmio, Satellite, Satellite Pro, Libretto, Portege, Tecra and Toshiba Mini models. We offer very competitive prices for Toshiba laptop screen replacement services.
At Creative IT USA, our Toshiba laptop screen repair solutions covers comprehensive diagnosis and repair coverage for all types of laptop display problems. Before getting on with any screen repair process, we make sure that the root cause of malfunctioning of your notebook is thoroughly analyzed. We have experienced technicians to work with your requirements quickly and can have your notebook computer returned back to you within the same day. We maintain a good inventory of LCD and LED laptop screens, backlights, inverters, display hinges, cables and other spare parts to provide you with timely repair and replacement solutions. All repair and Toshiba laptop screen replacement services we provide for Qosmio, Satellite, Satellite Pro, Libretto, Portege, Tecra and Toshiba Mini models are covered by a 3 month back to base warranty.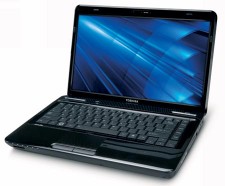 Replace or Repair Broken / Cracked / Damaged Toshiba Laptop Screen
We provide Toshiba laptop screen repair for the following laptop display problems:
Screen display is black
Display with horizontal or vertical lines or stripes
Dim Toshiba laptop display
Laptop screen goes blurry
Screen flickers constantly
Broken or cracked Toshiba laptop screen
No video on the notebook screen
Laptop screen pixel damage
No backlight or notebook screen is very faint
Screen is dark and does not display anything
Broken or damaged Toshiba laptop screen hinges
Distorted or scrambled video on the Toshiba screen
Nationwide Mail-In Toshiba Laptop Screen Repair and Replacement
Creative IT offers completely flexible Toshiba laptop screen repair and replacement process to meet your individual and business technical needs in the most convenient and simple way. We service clients all over USA and Canada through mail-in laptop repair services. Once we have received your request, we will make an arrangement to send you a FedEx laptop box to collect your laptop. You can also choose to ship your damaged Toshiba laptop yourself through any secure shipping medium.
Send your USA Toshiba laptop screen repair and replacement request to info@creativeitusa.com and receive a free estimate today. We are available 6 days a week from Monday to Friday and you can visit our Murrieta, California based repair store anytime from 9:00 AM to 6:00 PM. For an instant repair support, please give us a call on (951) 365-2144.
Easy and Convenient Repair Service.

You can send us your laptop to our shipping address from anywhere in the US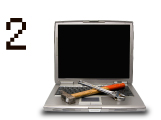 Our technicians will identify the problem and carry out the necessary repairs or upgrades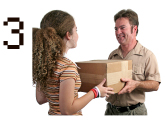 Your laptop is fixed and delivered back to you, as quickly as possible

MONDAY TO FRIDAY
9AM TO 6PM
SATURDAY
APPOINTMENT ONLY
DataRetrieval Office
Creative IT USA INC
27630 Commerce Center Dr, #B
Temecula, CA 92590


(213) 986 4855