WHAT CREATIVE IT USA DOES.
These are some of the many problems creative

it

deals with:
Gateway Laptop Repair

Creative IT offers fast and reliable Murrieta Gateway laptop repair and upgrade services on all models at affordable rates. With specialized services, we provide comprehensive component level laptop and notebook repair, upgrade and maintenance services in the most economical way to get your computer up and running yet again. Conveniently located in California, our services are offered to residential and business clients nationwide.
Creative IT offers a comprehensive Murrieta Gateway laptop repair program which covers hardware repairs, data backup and transfer, system upgrades, operating system installation, hard drive data recovery and network troubleshooting and monitoring services. Some of the major Gateway laptop problems we handle include:
Hard drive problems
LCD screen failure
Battery problems
CD and DVD drive problems
Lockups and software problems
Sound and speaker problems
DC power jack failures
Motherboard problems
Network problems

At Creative IT, we have skilled technical staff well-versed to understand the issues that occur with various models in the Gateway laptop product line. In addition to hardware repairs, our technicians are experts in services including virus, spyware and adware removal; virus protection, router and firewall updates and laptop optimization support.

Mail-In City and County of Murrieta, California Gateway Laptop Repair and Upgrade

By providing high quality Murrieta Gateway laptop repair services, we can get your laptop up and running in the most effective manner. You can ship your laptop to us or drop it off at our repair store. We can also arrange to send a prepaid laptop box upon your request. After thoroughly diagnosing the cause of malfunctioning of your laptop, a repair estimate will be informed to you. After getting your approval, we will perform the required repair within quick turnaround time and deliver it back to you through secure shipping. Our laptop repair and upgrade services are offered to clients across the United States and Canada.
To discuss your requirements regarding our Murrieta Gateway laptop repair and upgrade services, please give us a call on (951) 365-2144. You can also request a free quote by emailing us at info@creativeitusa.com or by filling out our quick contact form.
Easy and Convenient Repair Service.

You can send us your laptop to our shipping address from anywhere in the US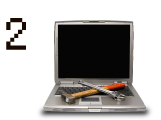 Our technicians will identify the problem and carry out the necessary repairs or upgrades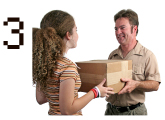 Your laptop is fixed and delivered back to you, as quickly as possible

MONDAY TO FRIDAY
9AM TO 6PM
SATURDAY
APPOINTMENT ONLY
DataRetrieval Office
Creative IT USA INC
25090 Jefferson Ave,
Suite D,
Murrieta, CA 92562


(951) 365-2144